Back To Blog
You may end up in need of gate repair when you least expect it. The reality is that accidents can cause serious problems and can occur at any time. However, there are also issues which occur as a result of poor maintenance. Learn more about three common problems that result from neglecting maintenance and how to avoid them.
Reliable Protection for Driveway Gate Opener, Panels and Hardware Parts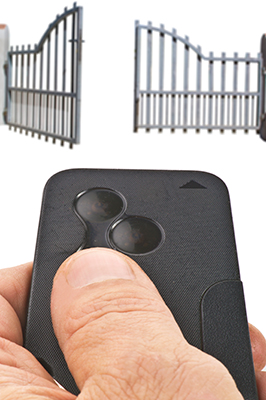 The safety sensors are an integral part of the opener system. If they do not work, the electric operator will not close the gate. Most often, the sensors stop working because they are covered with dirt, misaligned or their batteries are drained. You should clean them twice, or preferably four times a year to keep them in proper condition. Check the low battery indicator frequently. It is easy to avoid issues with these accessories.
Many people require driveway gate repair because the hardware parts and the bottom sections of the panels have too much rust and may have even started to corrode. There are several important measures that you must take to prevent this issue. You have to ensure that all hardware parts are made from galvanized steel which is resistant to corrosion. The panels should be coated with paint or another types of sealer preventing water from causing damage. Last, but not least, you must not use harsh driveway cleaners as they can easily damage components like the driveway gate tracks.
Vegetation can cause a great deal of damage to gates so you have to keep it away. Do not plant trees and shrubs with big roots near posts and in-ground openers. Otherwise, you may require extensive swing gate post repair or replacement of the component. Maintain the lawn in good condition and collect fallen leaves often. This is necessary to prevent them from obstructing the moving metal parts of gates and especially the wheels of sliding ones.